Recruitment Information
Comments from senior staff
Tawara (Director of the Shiga Factory)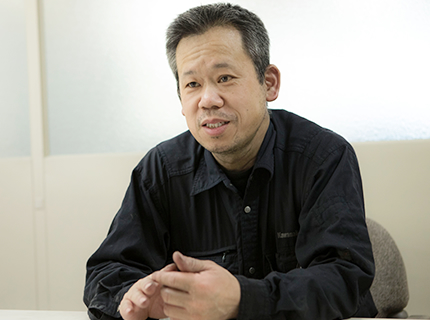 Learning from the president and handing down careers built up one dye mold at a time.
From graduating school until today, I have built up my career as a member of the Kawanaka Group over 35 years. My work was appreciated, and I am now in a position of responsibility as the Director of the Shiga Plant. I learned a lot from the current president, not only technology and expertise regarding dye molds, but also in the sense of character building.
He was, so to speak, like a mentor, or like a father, to me. I am in charge of finishing, a part that demands the highest technical skill even among dye mold manufacturing, but there are many parts of this job that can only be obtained from experience. These days, I instruct many junior members of staff at the factory, and I can sense the difficulty of passing down technology. However, this technology is the strength of the Kawanaka group and important asset to me as well, so I work hard every day to pass this down.
Kioka (Chief of Shiga Plant)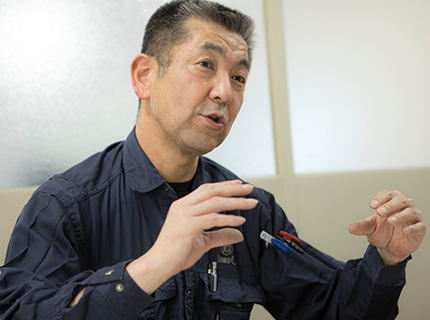 For human resources who can contribute to the company that provides them opportunities to play an active role.
Wanting to work with my hands, I entered the world of dye molds, and although I changed companies, I have built up my career one dye mold at a time. At my previous work, I was in charge of design, by at the Kawanaka Group, I am in charge of on-site production control. In truth, the reason I changed careers was because my former company went bankrupt. I was afraid of getting lost by the wayside, but the Kawanaka Group provided me with a place to use my experience and technical skill.
They gave me a place where I could further demonstrate my abilities, and the fact that I received even better treatment here than at my previous workplace was, in the end, a turning point for me. My feelings toward building dye molds one at a time has not changed. Since I would like to give back to the company, which created a place for me, I will polish my technical skill in order to contribute more to the people of the world and to the company.
See here for entry